Radiotherapy mammary carcinoma
Radiotherapy for breast cancer
Under certain condition, the healing results of the breast-conserving therapies are similar to those of a breast amputation. Radiotherapy is always used in breast-conserving therapy. It is also used after an operation, for example, if the lymph nodes are affected, or to ease pain.
The heart is screened off from the irradiated area.
On irradiation of the left breast it can occur that part of the heart lies in the irradiated area. With the aid breath-controlled radiotherapy (respiratory gating), the distance between breast and heart is enlarged, so that the heart lies outside of the irradiated area. The same technique is used to protect the lung.
In order to shorten the duration of the therapy, under certain circumstance a local dose boost can be applied towards the end of the therapy.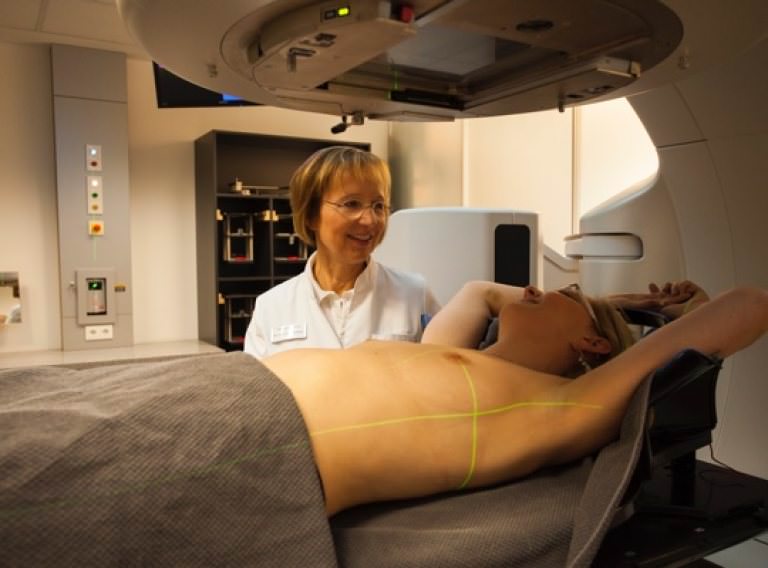 Radiotherapy for breast cancer
(5:37 Min.)
Possible side effects:
The therapy may lead to acute side effects and late reactions such as local skin irritation, swelling of breast or pulmonary inflammation. These have become less common, however, thanks to modern radiation techniques, and are usually easy to treat. Your doctor will inform you exhaustively about the risks before the radiotherapy begins. In order to keep side effects to an absolute minimum, you also receive exhaustive advice on skincare.
Important recommendations during radiotherapy for breast cancer:
Carefully apply cream to the region several times a day, e.g. Panthenol lotion.
Shower with a mild washing lotion. The skin must not be irritated!
Not allowed: swimming, sauna, bathing, deodorants, perfumes, solarium.